Beacon Registration - Why?
Why register a distress beacon?
Registration is free and can result in a more efficient search and rescue effort. As stated, digital 406 MHz distress beacons transmit a unique code that identifies a particular beacon when it is activated.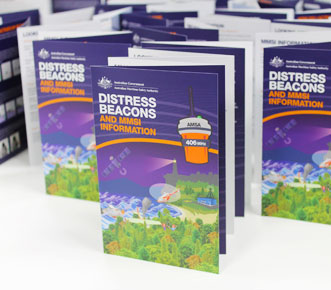 Australian Beacon:
An Australian registered 406 MHz beacon will allow the Australian Maritime Safety Authority's (AMSA) Rescue Coordination Centre to access the registration database and find contact details; details of registered vessels, aircraft or vehicles; and details of up to three nominated emergency contacts who may be contacted if a beacon is activated and contact cannot be made.
These emergency contacts may be able to provide valuable information to the RCC that can assist with a more expedient rescue. Beacon registration is valid for two years and renewal can be done online or by contacting 1800 406 406.
New Zealand Beacon:
When you first purchase a 406 MHz beacon it's vital that you register it with the Rescue Coordination Centre New Zealand (RCCNZ).
This is a FREE service and applies to all beacons – new or used, separate or installed in a boat, aircraft or vehicle.

Why register?
It helps to locate you faster.

It ensures the most appropriate search and rescue team is sent.

It's FREE.
When you activate a 406 MHz beacon, it is quickly identified by satellite, which then alerts RCCNZ. If you register, the identification code in your beacon can be searched in the database, so RCCNZ know who you are, who your emergency contacts are and what type of vessel, aircraft or vehicle you are in, or if you are tramping, hunting or diving. RCCNZ may also be able to find out exactly who is with you and how long you have been gone, so they can be in the best position to help you when you are located.
Registering your beacon also helps to eliminate false alarms, which divert search and rescue resources away from genuine emergencies.
How to register
There are two easy ways to register your 406 MHz beacon:
Fill out the online 406 registration form.
Or download the PDF registration form, fill it in and post, email or fax your form to:
Rescue Coordination Centre New Zealand
PO Box 30050
Lower Hutt 5040
Fax: +64 4 577 8041
Email 406registry@maritimenz.govt.nz or
Phone 0800 406 111 if you have any questions about registering your beacon.